Yeah, It's my blog and I can pretty much write whatever I want. Isn't that cool? Start you own blog and talk on my own show The Rosscast, make whatever silly ass movies I want, and write nonsense for you all to read. Now this list is based on the women I find attractive that are famous of kinda famous. I've done a list like this before (
click here to read
) but this is more thorough and broken down by race. For anyone wondering if you add up to these women in my eyes, don't fret. I'm just some random Negro, remember?
Black
Serena Williams.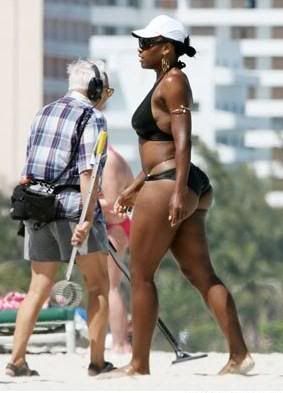 I remember when she first showed up after her sister and she wasn't all that cute back then. Now? She is the hotness. Not a typical kinda hot. She's muscular, can shout her ass off, and seems half crazy at times. But still, I'm not ever gonna date or meet Serena Williams. I just like to look at her. Nice things are put on the planet for us to look at, right? Ignore the old man in the picture unless that's what you're into.
Halle Barry.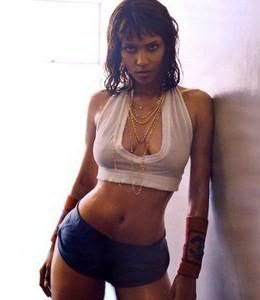 She will be hot when she is 90. Good genes and all that crap. I'm not a huge fan of her acting by any means ("Make me feel gooooood!!!"). But as you will see, skill means nothing on this list. Just the good looks and whether or not they make me smile. Her topless scene in "Swordfish" made me smile. Twice.
Pam Grier.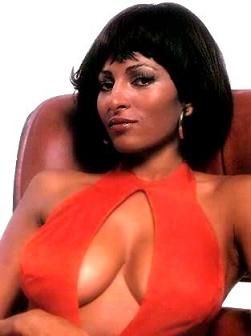 Poor Pam. She
used to be
so damn hot. This picture is from like 30 years ago. She used to run around topless in films and had that bad ass 70's attitude that was all the rage. When she had her hair permed she was hot. When it was a big ass afro she was hot. It didn't matter. This image of her is burned in thousands of men's minds for a reason.
Nia Long.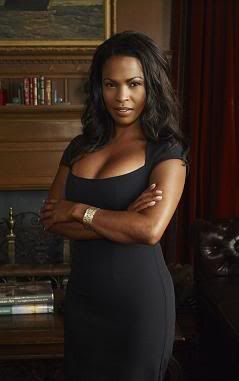 She came onto my radar when she was in "Friday." Everyone knows the scene where Smokie and Craig are sitting in front f the house and she runs by in slow motion. I think that scene put a hair on my chest. I lie. I'm like a friggin' naked mole rat. She has kept a low profile but no matter what she pops up in she looks hot. One of those women that even when they play a crackhead you still go "I'd hit it."
Angela Bassett.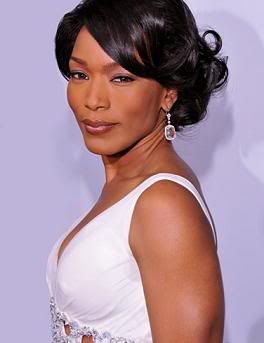 The definition of a classy ass woman. Her attitude is what some classless ass women need to try and get. She looks like the type of woman that wont take any shit from you and she looks so nice that you wouldn't try. Another that will be hot when I am 50.
Who Knows?
Rosario Dawson.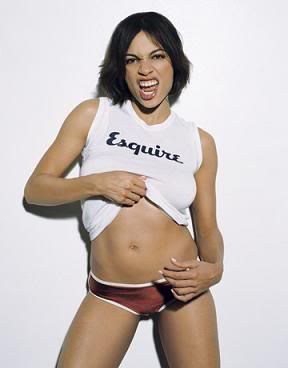 I cant quit this fucking
woman
. Even when she was banging He-Man I still liked her. I've liked her since I was 14 or something. Plus she is funny as hell and writes comic books. Seriously, who are you to not like her?! And she went topless in that horrible movie "Alexander." Look it up. It'll make you smile for a few minutes. Maybe even more.
Adriana Sage.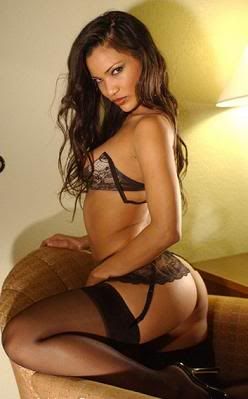 Time to get horrible. This chick is a (gasp!) porn star. She was the first porn star where I thought "She looks for serious hot." She wasn't the typical trashy looking porn star. And she looked like she could walk down the street and not get harassed. Don't look her up unless you want to be horrified by what you see. She's a dirty birdie.
Omahrya.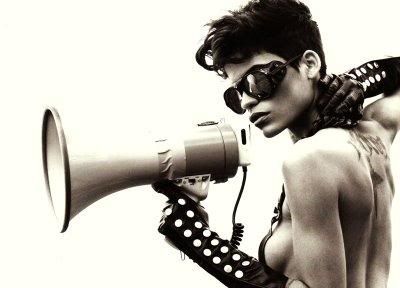 This is the most iffy on my list. Some people say she looks like a dude. This is my list and I don't give a damn. She looks like a snake but one I like. No, not a "V" snake. Just a skinny ass chick that appears to not give a fuck about what you think. That's hot.
Mila Kunis.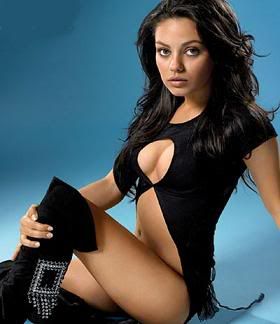 This is the chick from "That 70's Show" and "Forgetting Sarah Marshall." She lives nearby and she went to the same high school as me. No, I have never met her but I have seen her boyfriend, crazy ass Culkin at Gelson's. So you know she has issues. She gets cuter every year so by 2015 she will just turn into a Hello Kitty doll and finish her evolution. But I would suggest not staring into her eyes.
Amber Rose.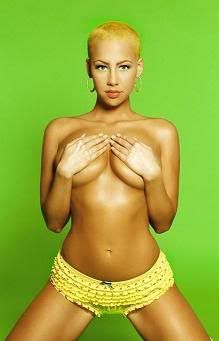 Ah, the infamy. This is Kanye's chick that dates women as well. People just call her White but she's actually some South American/Italian. Whatever she's mixed with it produced this chick with a giant ass and a pretty ass mouth. Plus she smokes and for some reason I always like when women smokes. I'll explain some other time. Oh, and she shaves her head which is something I wish every woman on the planet would do!
White
Jenna Von Oy.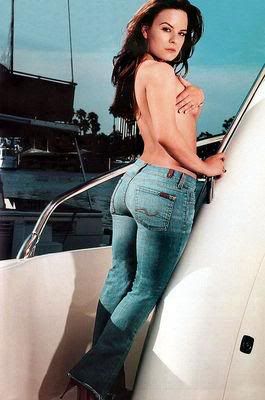 Know her? Remember that show "Blossom"? Yeah, this is her fast talking annoying friend named Six. I had a huge crush on her back in the day and one day saw her in a Black Men's magazine and was like "Yowzah bowzah!" She's small enough to fit in your pocket, makes music I'd never purchase, and has legs that women are right now sweating and crying to get. Bowchickawowwow.
Trish Stratus.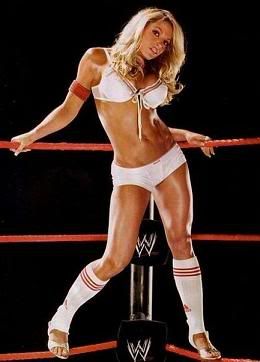 Former
WWE Women's Champion
and yoga nut Trish has been hot for a long ass time now. I remember when she first showed up on TV and couldn't wrestle a damn but got to the point where she was the best in the world. She's broken bones, her nose, but still managed to stay hot. Look her up. You'll be impressed by her skills.
Stacy Kiebler.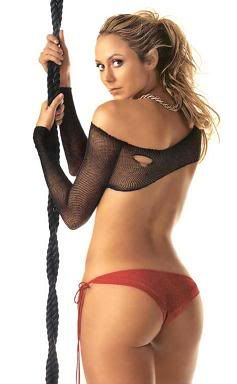 This chick flies in the face of all I find the hotness. She weighs as much as one of my legs and is almost too cute, if that makes any sense. But she has 40-something inch legs and
used to wrestle
so that combo alone makes her worth checking out. She has an odd taste in men which would give me hope in Bizarro World except none of the guys she dates looks like Dante. Whah whah whaaaaaaaah…
Linda Carter.
Motherfucking Wonder Woman! Had a crush on her since I was a kid. She is hot right now! As I sit here and she's old enough to be my grandma Linda Carter is hot. Just a natural ass beauty. I have seen pictures of her just out the house and she manages to carry an air of "Yeah, I make this look easy, don't I?" Yes, she does.
Jessica Biel.
Not a fan at all of her work. This is probably the most sexist woman I have on my list because I like nothing about her except how she looks. This is pure, 100% eye candy for me. Do I wanna meet her? Nope. Sex? Nope. Just stare at a picture and grin like a retard. That's it. And then I move on.
Latina
Selma Hayek.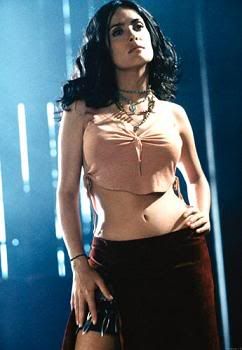 Look at that picture and tell me why she shouldn't be on this list. I first saw her in "Dusk Til Dawn" years ago when she did the snake dance. That was too hot for words. She has managed to get hotter and even though she had a kid she didn't go "Fuck it, I don't need to look hot anymore." This is damn near close to being a perfect woman. Her voice bugs me.
Shakira.
Like Jessica Biel, another one where I like nothing but how she looks…in pictures. Seeing her move creeps me the fuck out. She looks like the little girl in "Exorcist" doing that
spider walk
when
she dances
. Great body but I'm sure if I saw her in real life I would be amazed at how tiny she is. Plus her voice could slice through glass.
Michelle Rodriguez.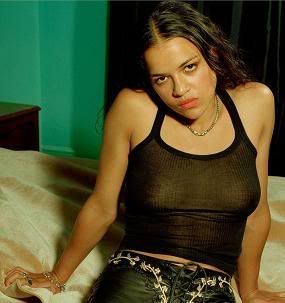 Man, oh, man. Now this psycho ass woman is hot. Even when she smiles she looks mad. I would never want to meet her though. She just looks way hot and that's why she's on this list. Not the best actress in the world but what does that matter anymore? It'd be hard to find a chick with better lips than her.
Eva Mendes.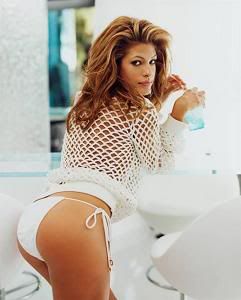 Remember her in "Training Day"? Full frontal. That's all I'm saying.
America Ferrera.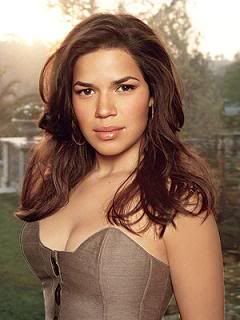 Hot chick from "Ugly Betty." I am fully aware that the previous sentence makes no sense. I liked her a few years ago and decided to see what she was up to and was surprised at how cute she got. She is growing up to look rather womanly. Yes, spell check has let me know that womanly is indeed a real word!
Eastern (or whatever)
Michelle Yeoh.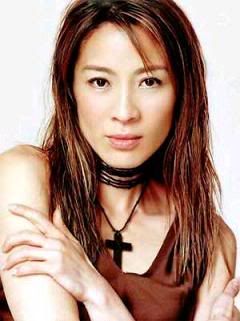 Saw her years ago when I was little in this crazy kung fu flick where she was whipping ass. You all may know her from "Crouching Tiger Hidden Dragon." This is a regular ass pretty lady. You wouldn't wanna give her a bone or nothing but you can appreciate her pretty.
Zhang Ziyi.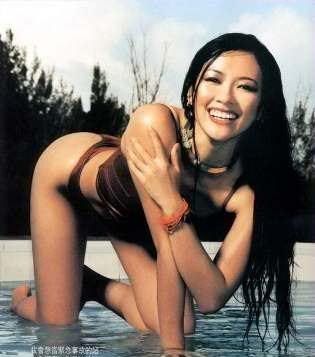 Another one from "Crouching Tiger…" that is just too cute for words. She was in "Rush Hour 2" as well looking like a damned doll that you wanna put in your pocket. Yes, I wanna put tiny people in my pocket. Don't judge me.
Kelly Hu.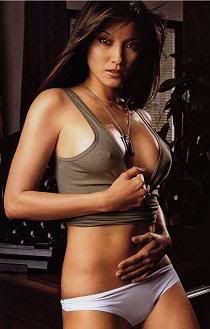 Even more eye candy! Seen her in a few cheesy ass movies where she was just there to look pretty. She was in "X-Men 2" as Lady Deathstrike. Hot for no good reason, really. I'll just assume she's mean as hell because she's so hot.
Kristen Kreuk.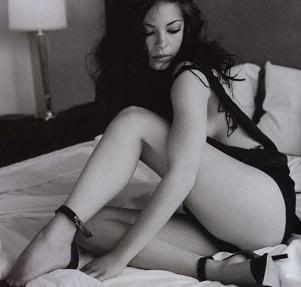 She plays Lana Lang in "Smallville" and ruined the Street Fighter franchise further. Just a cute little thing with no acting ability. Yeah, she's from Canada but she has Asian stuff in her blood so she makes this section of my list.
Shohreh Aghdashloo.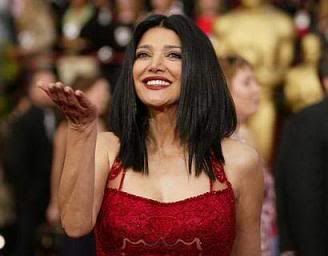 This old lady is smoking hot! I don't care what anyone thinks. Her voice is like satin and her skin is like a vampire its so smooth. She always plays someone that's really quiet. I'd love to hear her yell just once. It'd probably make me like her even more.
Honorable Mentions
Keisha Knight Pulliam.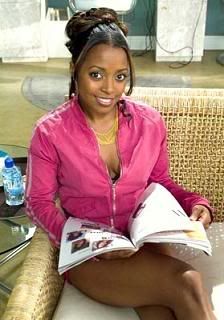 Rudy from "The Cosby Show." You cant tell me she didn't grow up hot. Playing hookers and such and there's talk she will be posing in Playboy soon. Childhood Dante and grown ass Dante are very happy about this. Aren't you?
And here's another shot for the hell of it.

Raven Symone.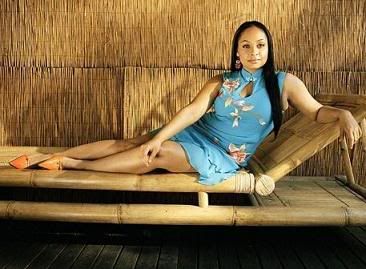 Now this one was out of left field! I thought this girl would grow up all funny looking and weighing 300lbs. But she grew up cute and normal which took me by surprise. Even if you hate her music (I do) and her show (which I like for no damn good reason) you have to admit Raven is hot now.
Old Lindsey Lohan.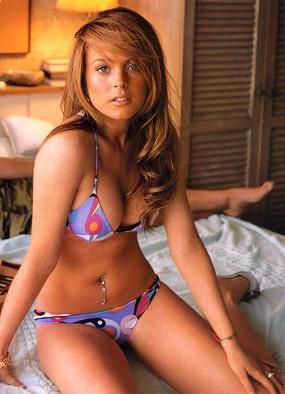 Yes, I mean old Lindsey Lohan. That fucking tragic mess we all see on TV acting crazy, crashing cars and blaming Black dudes that don't exist, and crying into her daddy's phone is not how I think of her. I remember the red headed fine ass chick that made movies I will never see. I don't think I have ever seen a movie with her in it. Fire crotch and all, the old Lindsey Lohan is hot. So sad…