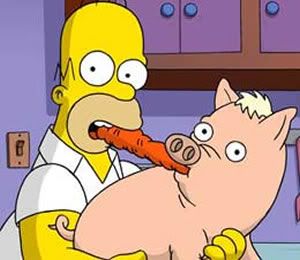 Okay. I'll do it. I didn't want to write a blog about this swine flu shit but I have no choice. I cant even listen to my favorite podcasts without the damned topic coming up. Happy, world?! Look what you've made me do!

When I first heard there was some pig flu going around I thought the police were going on strike again! Ba-dum-bump! Thank you! I'll be here all week. Try the pork chops! Or not. They have been showing this stuff all over the news. Now don't get me wrong. The news should show this kind of thing. It's a nasty little bugger that could kill if left untreated. They are telling people that if they feel like shit to just stay home. But you know, you just know, that some asshole that is coughing up a lung and crapping up a storm are dragging their ass to work and making others sick. Its all about being careful at this point.

The thing that is bothering me aside from the fact that my precious bacon is being threatened is that the news is trying to cause a panic. There is a line from Men In Black that I still remember and love.

"A person is smart. People are dumb panicky dangerous animals and you know it."

You have all these people walking around with this false sense of security because they are wearing masks. Let me tell you something: you are wearing the wrong masks! I worked in a hospital where I dealt with folks that had all kinds of airborne diseases. There are multiple type masks you can wear. The ones you are seeing on the news are the wrong kind. To effectively stop this disease you need one that has droplet protection. These masks suck to wear and whenever I had to I knew it would mean difficulty breathing and me sweating. The ones people are sporting are the equivalent of pulling your shirt over your nose.

If we are really going to fight this shit we have to do it right. If you are really afraid of this disease hurting your kids keep them at home. If you got some mysterious sniffles keep your monkey ass at home. And don't eat pork. That just means more bacon for me!

Rockets.