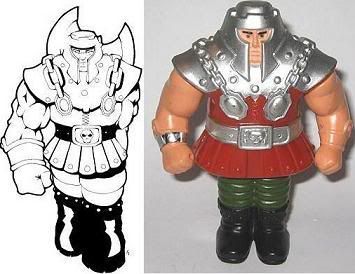 "Slaves to the King of Kings. And slaves to love. Steer the ship by the sweat. Of our brow and beat of the drum. War against sin with the weapons of our unity. Right on the mark with a love for humanity. Building up to ramming speed. The power of God is ramming speed." - Ramming Speed by Deliverance


Ram-Man's first appearance is in the early Mattel mini-comic "He-Man Meets Ram Man". In this comic Ram-Man is portrayed as a loner who lives on a stretch of barren land.

He will attack anyone who crosses his land, believing their intention is to fight him, and although his past is not delved into it is implied he had retreated to this stretch of land after being continuously victimized by others. The story began with He-Man crossing his land, and despite stating his peace, Ram-Man disbelieves him and attacks him. Left with no choice but to fight Ram-Man, He-Man fights back and quickly beats him.

Humiliated by this defeat, Ram-Man swears to get revenge on He-Man, and his confusion is taken advantage of by Skeletor, who was spying on the fight. Skeletor tricks Ram-Man into believing He-Man is evil, and leads him to Castle Grayskull, where he forces Ram-Man into ramming the jaw bridge repeatedly to gain entry to the castle, where Ram-Man believes He-Man is. When The Sorceress witnesses Skeletor's attempt to break into Grayskull, she calls He-Man to her aid, who releases Ram-Man from Skeletor's clutches and drives away the villain. Realizing he had been tricked and that He-Man means him no harm, Ram-Man befriends He-Man and joins the Heroic Warriors.

I'm a huge Ram Man mark. I'm not even sure why. When I was little I don't remember asking for his toy. He was on the cartoon, like, once. But there was something about him that made me bound with his character. Maybe it was the fact that we were both short. Maybe it was the fact that we both had hard ass heads. Maybe it was the way neither if us could bend our elbows. Whatever it was, it always stuck with me.

Ram Man came with an axe. A big ass axe. But I lost it. Maybe I didn't lose it. My brother Luther had a strange habit of biting the weapons of my toys like He-Man, Voltron, and G.I Joe. I'd be looking for my toys and they would either be in his mouth or on the floor with teeth marks all over them. It never failed. He would eat my toys!

Ram Man didn't need no damned axe though. Ram Man was a human weapon. A one man gang. Look at that head! He could knock down walls if he felt like it. The cool thing about the toy was the switch on his heel. You'd crunch him down making him even shorter (way to go, God…), and then press that switch and he would, uh, ram. Pretty simple. Don't knock his hustle. If they had a guy named Push Fella or Shove Lad you wouldn't talk shit. Why you gotta hate on Ram Man?
Whenever I see Ram Man I smile. He reminds me that for as much as I bitch about my childhood that there was something that made me smile. I love Ram Man.
Rockets.